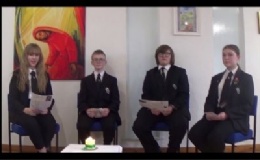 We are delighted to be joined by the Year 9 Senior Ethos Team at Thomas Becket Secondary in Northampton today. Thank you for leading our weekly reflection.
The Year 9 Ethos Team is a group of 16/17 students who meet together every Friday for lunch and prayer. They discuss what is happening at school and with their lives in general. Each meeting ends in the Chapel for prayer time together (Lexio Divina, music or reflection). The team is strongly committed to the Ethos of belonging to a Catholic School community and everyone is welcome, all faiths and none.
There are also Ethos Teams in Y7 and Y8 and a Sixth Form Ethos Team.
Visit the school website to find out more about the work of the Ethos Teams and Prayer Life at Thomas Becket.