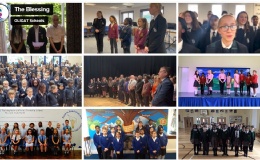 Wishing you all a lovely Summer break!
As we approach the end of our final week of this Summer Term, we would like to say thank you to all our students, staff, parents and carers for all your support, hard work and memories made this academic year.
We would like to say thank you and a fond farewell to our leavers and wishing you all the very best for the future - please do keep in touch!
We would like to share with you this recording of The Blessing, with beautiful contributions made from students across all 12 schools in our OLICAT community.
Best wishes and prayers for a restful and fun Summer break.