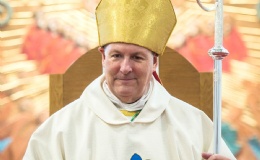 Bishop David is celebrating our 1st Anniversary with a Mass in Northampton Cathedral
Feb 1st 2021 marks the 1st Anniversary of the Our Lady Immaculate Catholic Academies Trust and our sister Trust, St Thomas Catholic Academies Trust.
We will enjoy a day of celebrations, starting off with a mass at 9am kindly celebrated by Bishop David in the Cathedral of Northampton.
We are unable to invite any congregation to the Cathedral at this time, however Mr Tony Bishop, Executive Lead of the OLICAT Schools, is able to attend on our behalf and will be participating in the service with a reading.
Please join us for this special service at 9am, Monday 1st February, via the live stream using this link: