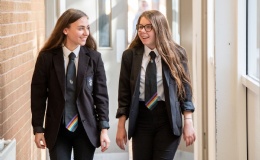 EAL Learning Support Assistant
EAL LEARNING SUPPORT ASSISTANT FOR MATERNITY COVER TILL JULY 2021
SALARY SCALE: .6 £9.93ph
(£19,698pa fte)
30 hours per week – 39 weeks per year
8.30am to 3.30pm
(term time and 5 training days)
To commence as soon as possible
The Directors of this successful, popular, up and coming Catholic Secondary
School wish to appoint an EAL Learning Support Assistant.
"CHRIST'S LOVE IS OUR FOUNDATION"
The role will include the following tasks:
To join an enthusiastic group who help with the learning and social development of pupils who are the subject of an individual education plan under the general direction of the SENCO and in liaison with the class teacher and other professionals.
Run the EAL provision in school
To analyse EAL data
To work as part of the student support team, using initiative and people skills in assisting or working with other pupils as required.
To deliver small group interventions in specific areas of learning needs such as Literacy, emotional wellbeing and social skills
To work with the pupils concerned either alongside them in the classroom or in a withdrawal situation, 1:1 or in small groups / whole classes to promote quality learning
To promote and maintain good professional relationships with staff, parents and other professionals.
To carry out targeted interventions and to be involved in the planning and preparation of teaching areas and materials.
To carry out as directed the recording of pupils' experience and progress.
To work as a member of a team to promote the best interests of the pupils.
To liaise with parents, professional agencies and teachers to ensure quality support is maintained – including supporting reviews for named students.
To assist pupils to gain access to the school's curriculum including developing their skills in social interaction.
Previous experience would be desirable but not essential.
All our staff uphold the core values and Catholic ethos of the school. All appointments will be subject to an enhanced DBS clearance in line with our Safer Recruitment Policy. Further details and an application form are available from Miss Jan Hayes at HayesJ@thomasbecket.org.uk or from the school website at www.thomasbecket.org.uk or the Catholic Education Service website.
CLOSING DATE : FRIDAY 13TH NOVEMBER 2020
About Us
Thomas Becket Catholic School is a successful, comprehensive 11-18 secondary school in Northampton. We are committed to continuous improvement and driving up standards of attainment and we are ambitious for our students and our staff. We are a Catholic, learning, listening school where it is not enough that children know they are loved, we show them.